Amerikan Psikiyatri Birliği (APA) 2013 toplantısı  18-22 Mayıs 2013 tarihlerinde San Francisco'da gerçekleşecektir. Programın künyesini ve posterini ilginize sunuyoruz – TürkPsikiyatri |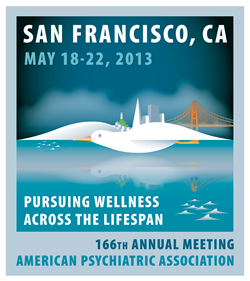 Plan now to attend the 2013 APA Annual Meeting in San Francisco. See what it has to offer at San Francisco Travel.

PARTICIPATE

The Abstract Submission Site is closed for program proposals.
The Abstract Submission Site will open on November 1, 2012 for New Research, Young Investigator New Research, International, and Resident & Medical Student Competition POSTERS.
The deadline to submit posters is December 5, 2012 at 12 midnight (EST).

Download the New Research Poster guidelines

SCIENTIFIC PROGRAM

Preview the program highlights.

The site to make your member housing reservations is now open.  Take this time to view the hotels prior to making reservations. Select Housing & Travel.

The registration site is now open to APA members.  Register Now!

Register now to purchase your exhibit booth.  Select Exhibit Information.

ANNUAL MEETING SELF-ASSESSMENT

Registration entitles you to take the 2013 Annual Meeting Self-Assessment for FREE ($200 value). This self-assessment, 100 multiple-choice questions, will be available from February 2013 until the start of the meeting in May. Benefits: 1) identify knowledge and practice areas for improvement to target which Annual Meeting sessions to attend; 2) help satisfy the Maintenance of Certification (MOC) Part 2 requirement with this ABPN-approved tool; and 3) earn up to 8 hours of AMA PRA Category 1 Credits™.