Amerikan Psikiyatri Birliği'nin 166. Yıllık Toplantısı 18-22 Mayıs 2013 tarihleri arasında San Francisco'da yapılacaktır.  – TürkPsikiyatri | Güncelleme (20/02/2012)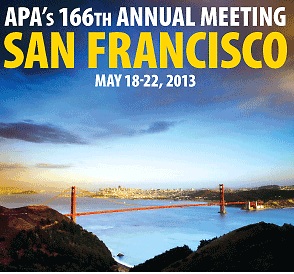 Bilimsel programa aşağıdaki linkten ulaşabilirsiniz.
Link: http://psychnews.org/pdfs/preliminary_program.pdf
Incredible Meeting, Incredible City!
Dilip Jeste, M.D.
I am truly excited to invite you to what will possibly be the largest psychiatric conference of 2013—the annual meeting of the American Psychiatric Association, to be held in San Francisco from May 18 to 22. San Francisco is easily one of the most alluring cities and top tourist destinations in the world. You have heard this before, but it is worth repeating now—our meeting is not only the biggest but also the most educationally comprehensive psychiatric conference, and arguably the best value for the money! And it is set against a rich backdrop that you can thoroughly enjoy when you are not soaking up the latest research and clinical information.
For those who love history, the city of San Francisco was established in 1776, although the earliest archaeological evidence of human habitation of the territory of San Francisco dates to 3000 B.C.! In terms of the history of APA meetings, these were held in 1844, 1846, and 1848, and then annually thereafter except for the years 1861 and 1945. The APA conferences have taken place in over 40 cities in North America. Francis Braceland, M.D., presented the first William C. Menninger Memorial Convocation Lecture at the 1956 meeting. The tradition of having an annual meeting theme was started in 1984 by APA President George Tarjan, M.D.
The "official" planning for the 2013 annual meeting actually began in fall 2011. Capitalizing on the energy and feedback from previous meeting attendees and presenters, the Scientific Program Committee, under the incredible leadership of Josepha Cheong, M.D., laid the groundwork for outstanding scientific presentations, thought-provoking discussions, and interactive forums revolving around the theme I have selected for the meeting—"Pursuing Wellness Across the Lifespan." Over 2,700 abstracts were submitted and reviewed, and narrowed to the final program of about 500 sessions. The meeting has another important dimension as well—international relevance. I have worked closely with the Scientific Program Committee and the APA staff to develop a program that represents the best of the field, not only in the United States, but also internationally. And don't forget—DSM-5 will be launched at this meeting. You are invited to a special event to mark the occasion and purchase your copy before it goes on sale to the public.
Among the perennial highlights of the program are the Invited Award and Special Lecturers, and this year's list is a particular standout. I am very proud to announce that we have a history-making keynote speaker this years. Also, we will be hearing from three Nobel Laureates: Elizabeth Blackburn, Ph.D., Stanley Prusiner, M.D., and Andrew Schally, M.D. Our Special Lecturers will explore topics ranging from genetics to cognition and from suicide to new drug discoveries. Acclaimed researcher-clinicians include Irvin Yalom, M.D., Nora Volkow, M.D., Maria Oquendo, M.D., Stephen Stahl, M.D., and Eric Nestler, M.D., Ph.D.—each presenting on the state of the art in his or her area of expertise. Noted neuroscientist Baroness Susan Greenfield of Oxford University will present a timely exploration of the impact of digital technology on the young mind. At the other end of the age spectrum, Gary Small, M.D., will discuss brain health and prevention of Alzheimer's disease.
An additional feature of particular interest will be a dialogue during the Opening Session with Elyn Saks, J.D., Ph.D., the Orrin B. Evans Professor of Law, Psychology, and Psychiatry and the Behavioral Sciences at the USC Gould School of Law, a renowned author with an autobiography on the best-seller list, and a well-known ethicist. Dr. Saks, who suffers from schizophrenia, is an inspirational personification of resilience in the face of a serious mental illness.
There also will be a series of Presidential Symposia sponsored by allied psychiatric organizations, including the American Academy of Psychiatry and the Law, Academy of Psychosomatic Medicine, American Academy of Psychoanalysis and Dynamic Psychiatry, American Academy of Addiction Psychiatry, and American Association for Geriatric Psychiatry.
To make navigating the meeting easier for registrants, a majority of sessions have been organized into seven tracks: Addiction, DSM-5, Child and Adolescent Psychiatry, Forensic Psychiatry, Geriatric Psychiatry, Psychosomatic Medicine, and the National Institute on Drug Abuse (more about this last track will appear in a future issue). In addition, military-related sessions will be highlighted in a brochure separate from the program guide.
Last but certainly not least, the ever-popular media workshops will combine media presentations (such as films or photographs) with thoughtful discussions. Of note, critically acclaimed director and documentary filmmaker Delaney Hunt, M.D., will be present at a session for her award-winning documentary "Unlisted"—a poignant look at the effects of mental illness on the person and the family. In addition, Dr. Hunt will be premiering her recently completed and highly anticipated documentary on global mental health, "Hidden Pictures."
These are just a few of the exceptional sessions scheduled for the San Francisco meeting. Both the invited and submitted sessions cover an extensive array of topics and issues pertinent to the range of people who attend—from medical students, residents, and early career psychiatrists to mid- and advanced-career psychiatrists.
The 2013 annual meeting is expected to be one of the most worthwhile and memorable experiences of the year. It is a unique opportunity—the largest psychiatric event in the country—to learn about the latest developments in the field, sharpen your clinical skills, and meet with friends and colleagues. Please register now to take advantage of the lower advance registration fees. Also, be sure to book hotel accommodations as the official hotels tend to fill quickly. Remember, San Francisco weather tends to be cool even during the summer. Mark Twain has been famously quoted as saying "The coldest winter I ever spent was a summer in San Francisco."
On behalf of APA and the Scientific Program Committee, I invite you to come and help us make this the most successful meeting yet. Looking forward to seeing you in beautiful San Francisco!