Journal of the American Academy of Child & Adolescent Psychiatry dergisinde yayınlanan bir makalede depresyon teşhisi almış okul öncesi çocuklarda yapılan fMRI beyin taramalarının normal kontrol grupları ile karşılaştırılmasında amigdalada artmış aktivite artışı saptandığı belirtiliyor. Bu beyin görüntülemedeki farklılık bizlere çocukluk depresyonunun beyin fonksiyonlarındaki değişime dair erken dönemde kanıt olanağı vermektedir. Araştırmacılar elde edilen bulgular ile depresyon geçiren çocukların erken dönemde teşhis ve tedavi olanağı sağlayacağını ve ileri dönemlerde potansiyel problemlerin önüne geçilebileceğini belirtiyorlar.  İlgili çalışmanın özetini ilginize sunuyoruz – TürkPsikiyatri |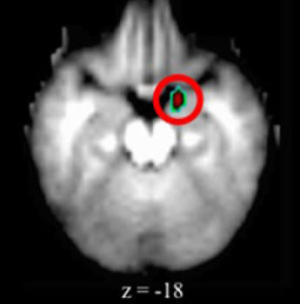 Disrupted amygdala reactivity in depressed 4- to 6-year-old children.
OBJECTIVE:
Disrupted amygdala activity in depressed adolescents and adults while viewing facial expressions of emotion has been reported. However, few data are available to inform the developmental nature of this phenomenon, an issue that studies of the earliest known forms of depression might elucidate. The current study addressed this question by examining functional brain activity and its relationships to emotion regulation in depressed 4- to 6-year-old children and their healthy peers.
METHOD:
A total of 54 medication-naive 4- to 6-year-olds (23 depressed and 31 healthy) participated in a case-control study using functional magnetic resonance imaging (fMRI). Imaging data were used to compare functional brain activity in children with and without depression during emotion face processing.
RESULTS:
A right-lateralized pattern of elevated amygdala, thalamus, inferior frontal gyrus, and angular gyrus activity during face processing was found in depressed 4- to 6-year-olds. In addition, relationships between increased amygdala activity during face processing and disruptions in parent-reported emotion regulation and negative affect were found. No between-group differences specific to emotion face type were identified.
CONCLUSION:
To our knowledge, this is the earliest evidence of alterations in functional brain activity in depression using fMRI. Results suggest that, similar to findings in older depressed groups, depression at this age is associated with disrupted amygdala functioning during face processing. The findings also raise the intriguing possibility that disrupted amygdala function is a depression-related biomarker that spans development. Additional studies will be needed to clarify whether the current findings are a precursor to or a consequence of very early childhood depression.